salt marsh observation platform
As a team we placed a high value on evocative and pro-social circumstances that encourage natural and social awareness, which tended towards novel interpretations of the natural and social world by participants.

For example, this proposed plan is one of four installations to create informal and social learning opportunities highlighting the Bedwell Park environment. This installation proposed a dock with fly-out net over the existing salt ponds at the South West edge of San Francisco Bay. It breaks the edge of the pond as an interpretation of the ecological phenomenon know as an ecotone, which are dynamically overlapping environmental habitats and phenomena. The diagonal decks draw from the existing path above in both directions, but don't connect to simultaneously create a protected inlet for study and a sense of tension reminiscent of the unresolved nature of inter-dependent dynamic systems.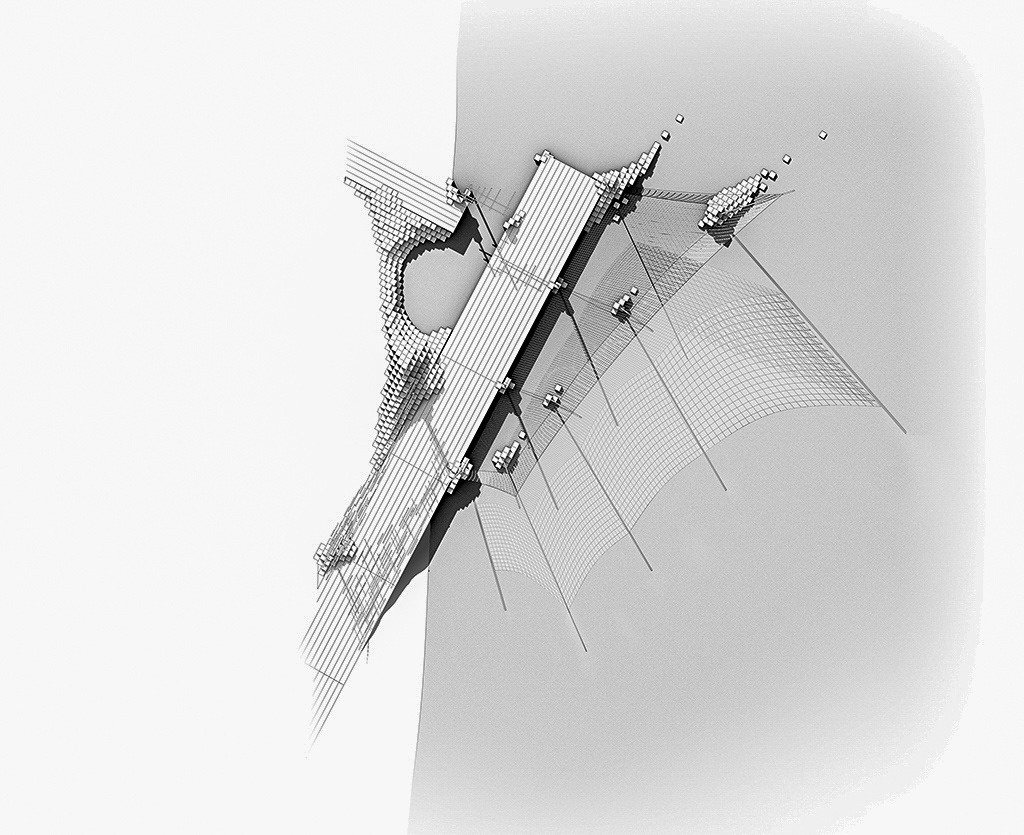 Living Innovation Zone I - Pause
This is the first project our team did as SPS. I was responsible for the overall design of the space and structure. Working with the engineers and exhibit developers, we integrated two Exploratorium exhibits with the final design, each augmenting the experience of the other. To facilitate this integration and our intent to encourage passersby to stop for a moment and explore, I started with an ovoid and then subtractively molded it. I wanted to strike a compelling balance between cohesion/dispersion, openness/enclosure, transparency/opacity, grounded/ephemeral, etc.

Four years ago, this project was my first attempt at inhabiting structure with not only Exploratorium goals of informal learning and open-ended discovery, but also our team's goal of creating an invitation to pause and engage. All these goals directly informed the larger arc of my interactive art practice, even if it was but a "skeletal" first pass in the world.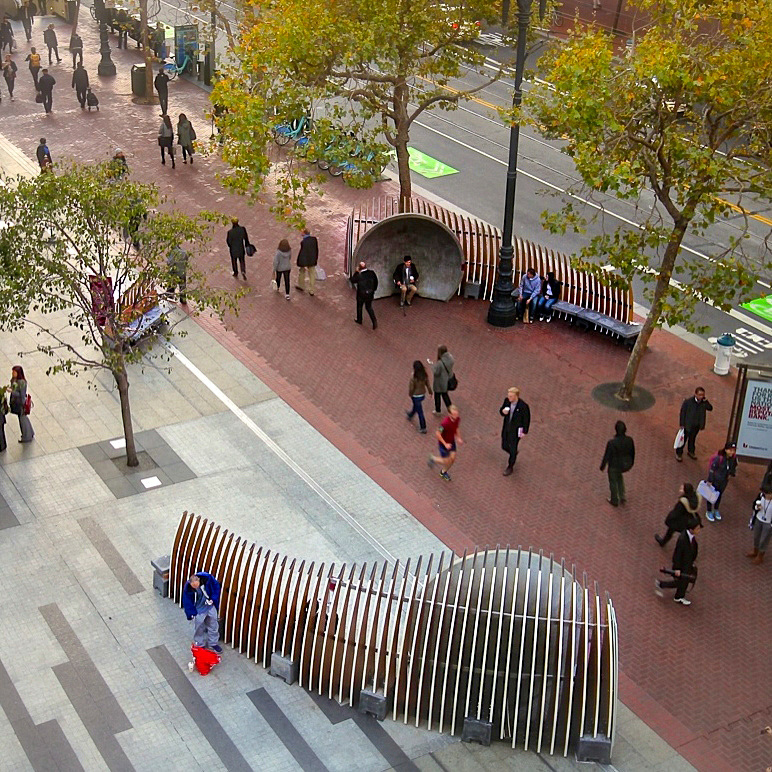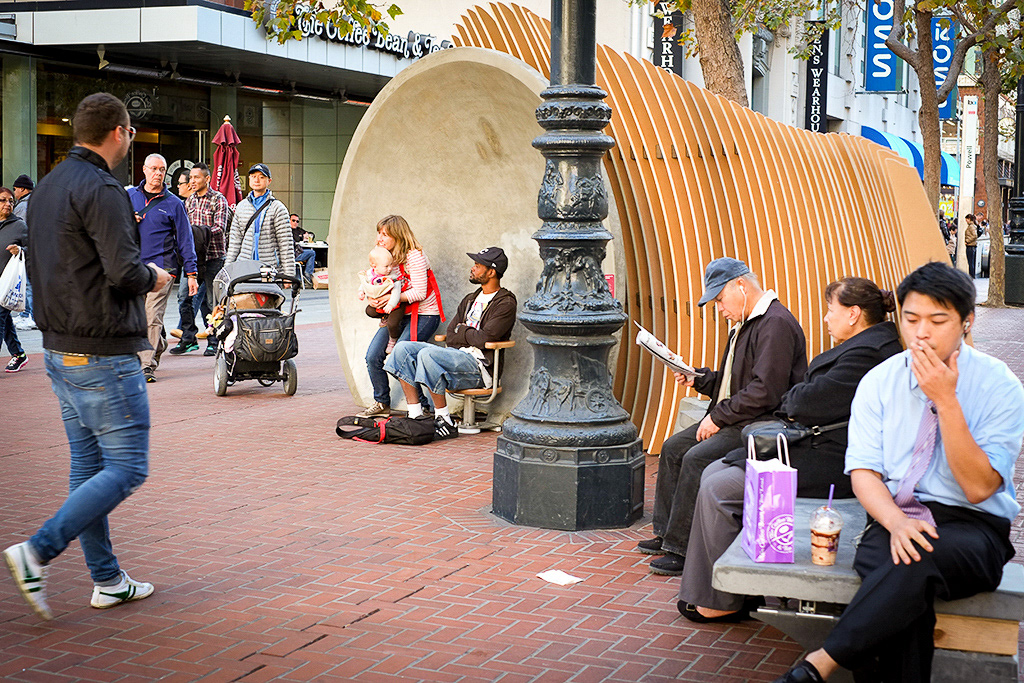 This partnership with the SF Boys and Girls Club was funded by the National Science Foundation. Its main goal was to engage kids from the local SF Latino community and introduce them to STEM content via the Exploratorium exhibit development process. In addition, the kids were part of the parklet design.

I designed the overall wood structure and the steel framed base. I also worked with one of our engineers to have them fabricated by an out-of-house vendor. The exhibit engineers and I worked together on the exhibit implementation.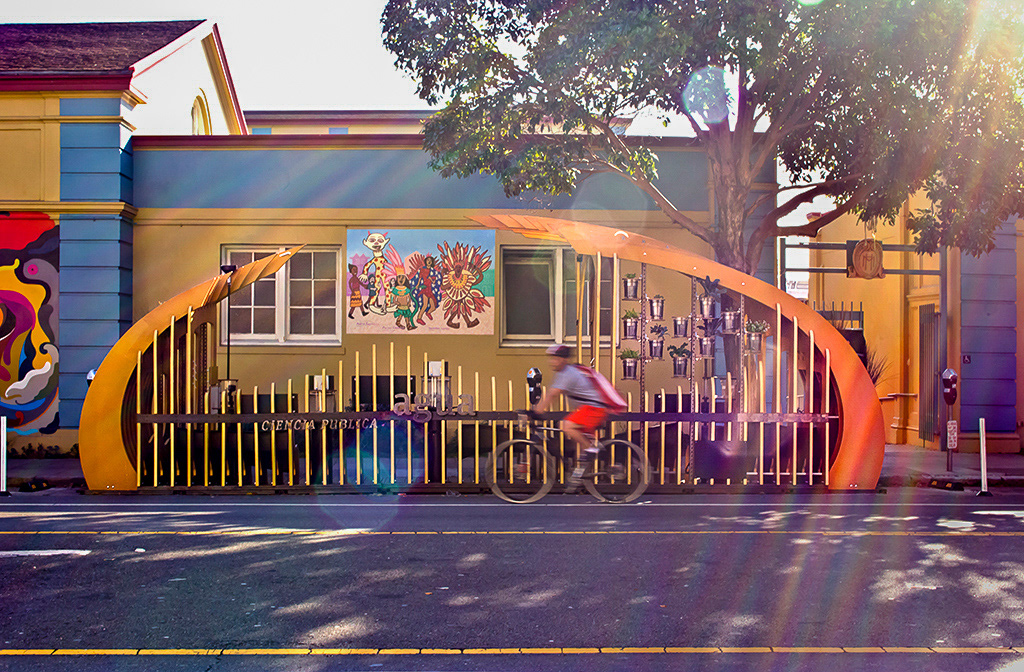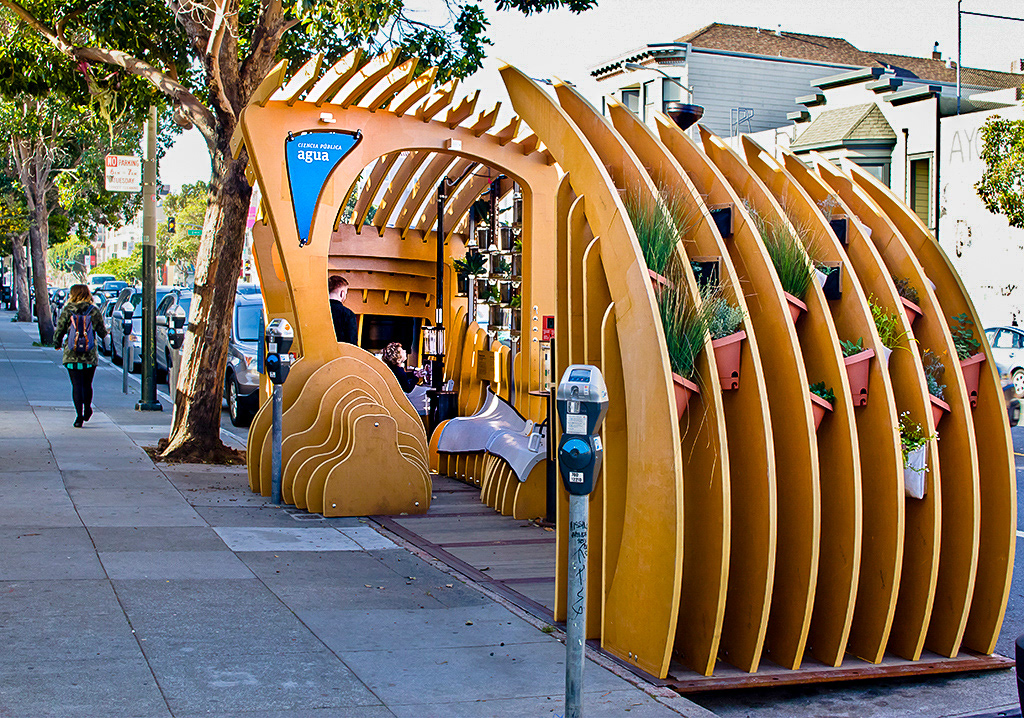 Living Innovation Zone II - sound commons
Partnership with numerous city agencies and local civic groups; UN Plaza, San Francisco; installed May '16
Design - Revit, AutoCAD
Built - wood pathway, concrete and wood supports, aluminum and steel exhibits
Inspired by elevated walkways through protected parkland and Zen gardens, my layout intends to create a novel opportunity for the very diverse occupants of this space to experience some serenity in this long beleaguered civic nexus. Shared by homeless, drug users and dealers, students, tourists, corporate and government workers and numerous markets, we were adamant that our design would not dis-invite anyone from the space. Never the less, you wouldn't notice that this area, the Tenderloin, has the highest density of children in San Francisco. We wanted the space to reflect that reality by making it more inviting to children and their families.  We created an opportunity for visitors to re-interpret the space's pro-social potential.
My responsibility centered on the overall design of the pathways, their detailing, the vertical support elements and the layout of the exhibits they supported. I worked with the team to create a spacial experience with the exhibits, especially the vertical undulating chime "forest".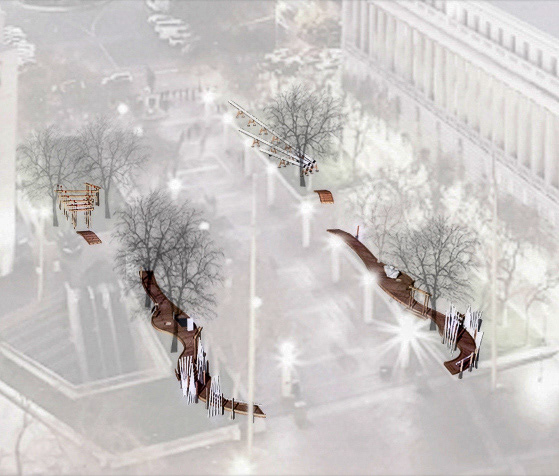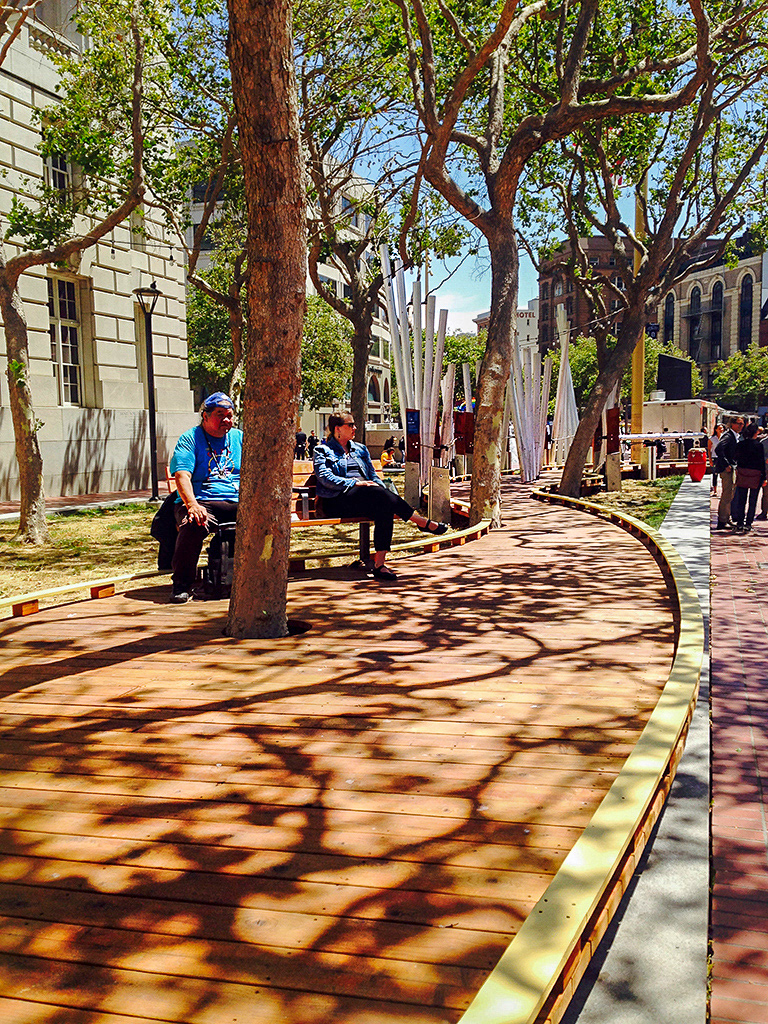 The overarching purpose of this deck is to afford observation and interpretation of both the terrestrial and celestial surroundings. I designed the deck to cascade off the existing museum patio level. The two levels work to resolve existing and new circulation with the natural topography. The split levels also serve to create a balance between open public space and more intimate spaces for informal discovery via the exhibits, developed by our team's engineers.

I also designed the sculptural vertical elements throughout the deck. The main inspiration for these forms are the two iconic observatory domes visible in upper right image. To echo these domes while opening to the sky, I used compound curved struts reminiscent of the ribs in the existing domes. I then worked with the engineers, exhibit developers and graphic designers to integrate the experiences we developed with Chabot into these installations.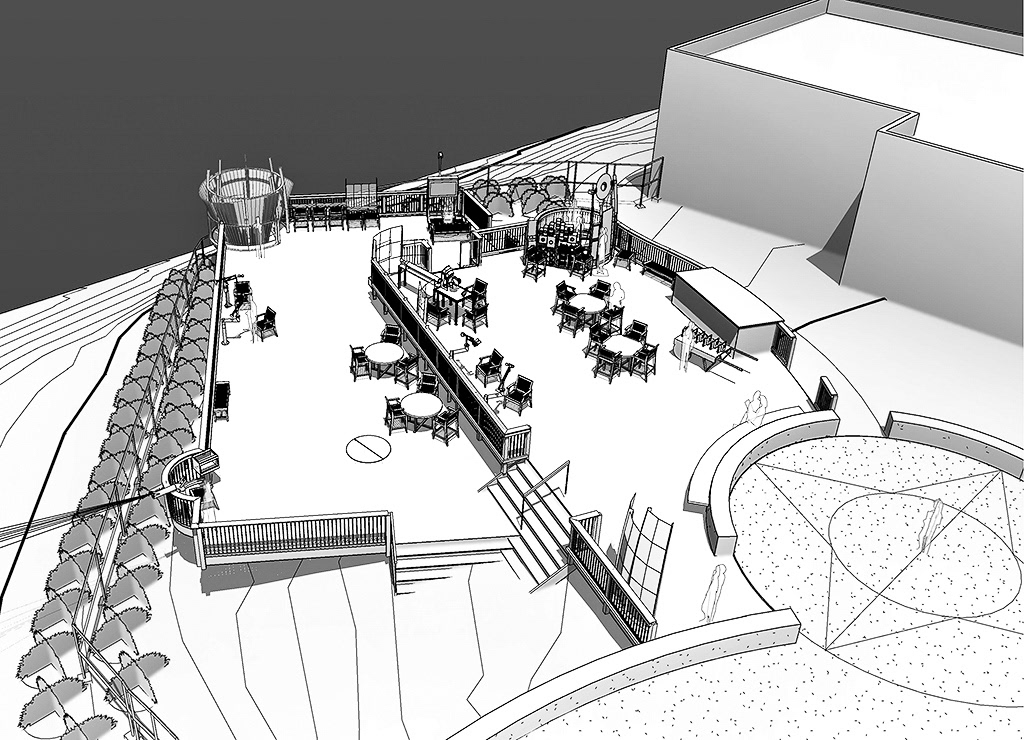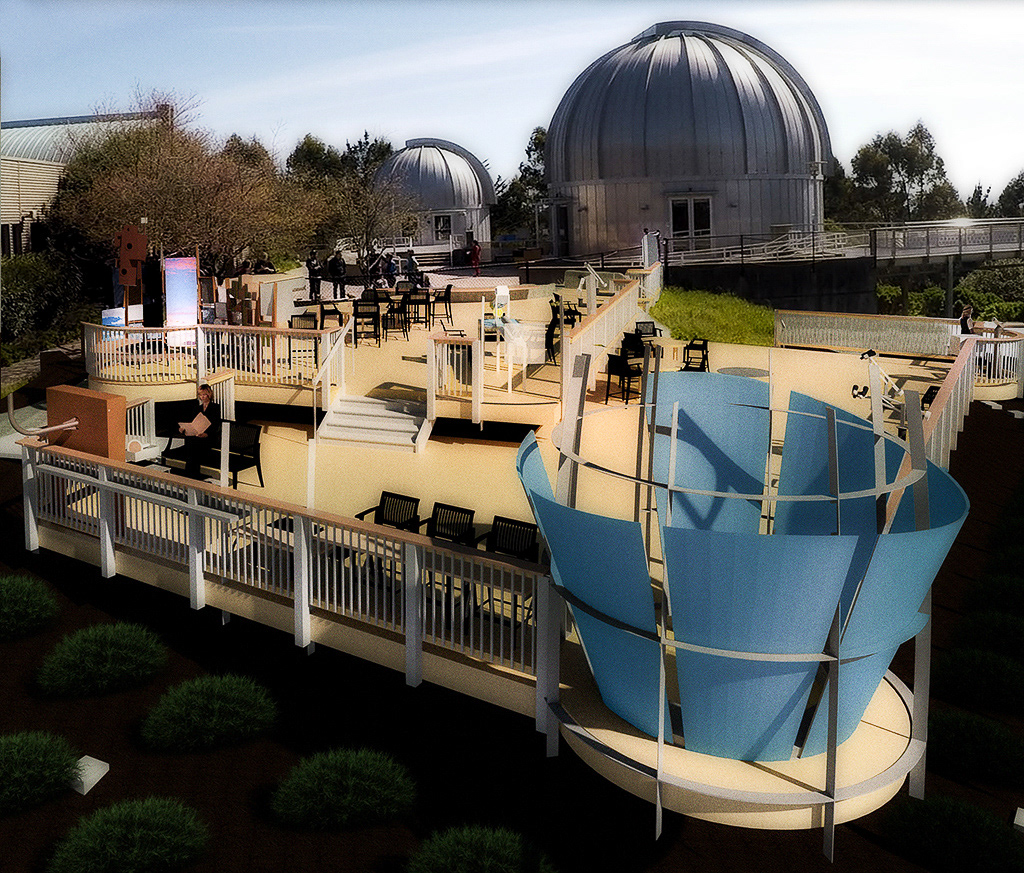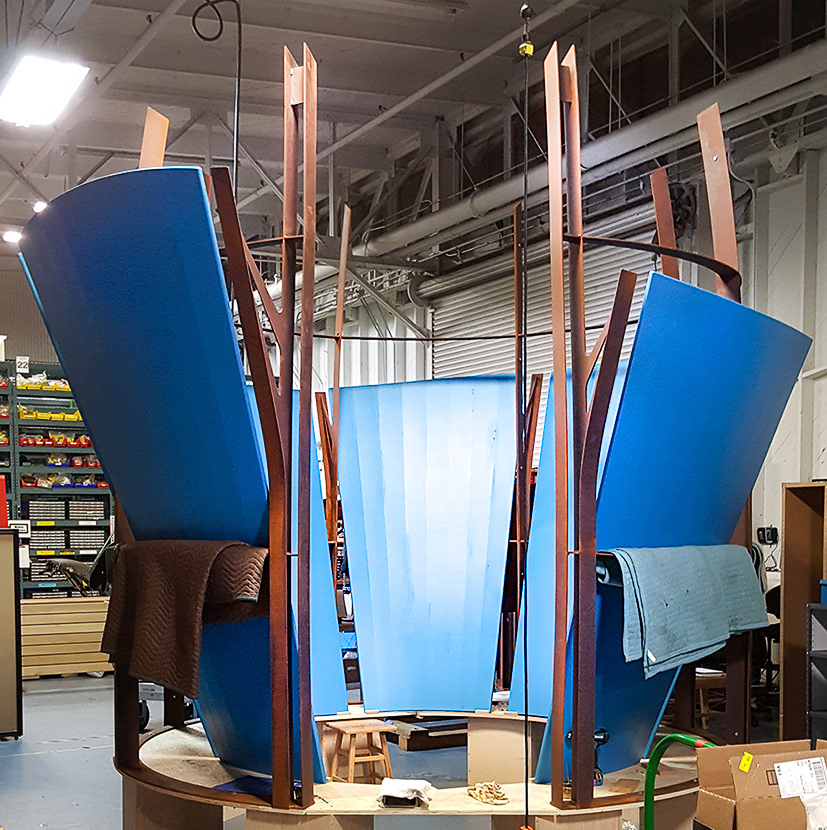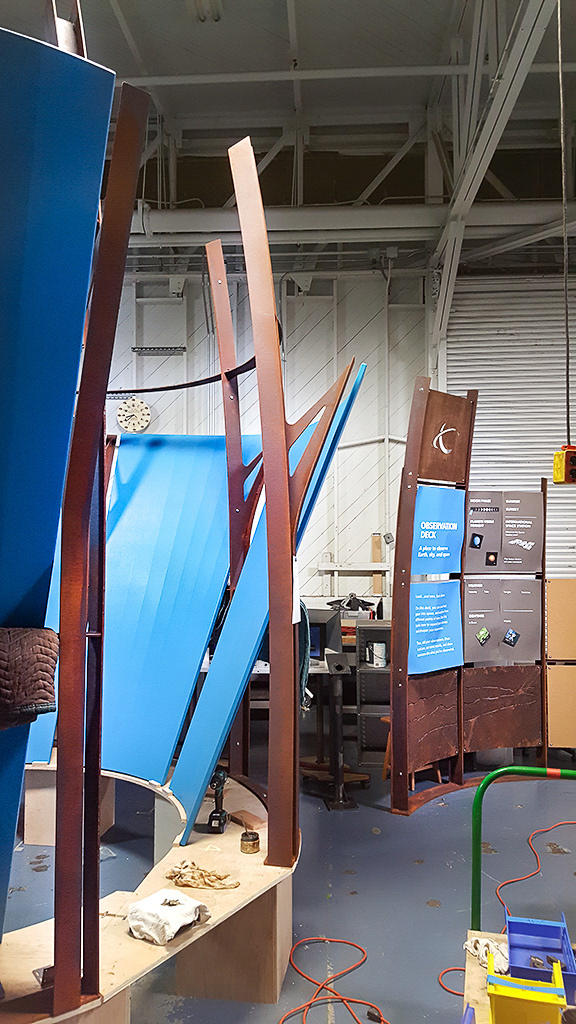 My original inspiration was the fountain as a focal point from the main circulation thoroughfare. I wanted to draw people into a permeable "space within a space". I endeavored to create an installation that is at once inviting and embracing, but also dramatic and a stage for others to observe.

As architectural lead, I designed the overall architectural sculpture and worked closely with the engineers to integrate their chair and chime mechanisms throughout the process.  As a team, we sought an interactive phenomenon that would invite people to co-create something to augment and claim the space. We settled on chimes, which can be struck by a hammer lifted by rocking back and forth on a rocker below each chime. Together or by themselves people suffuse the space with their sonic explorations.

Photos: Gayle Laird © Exploratorium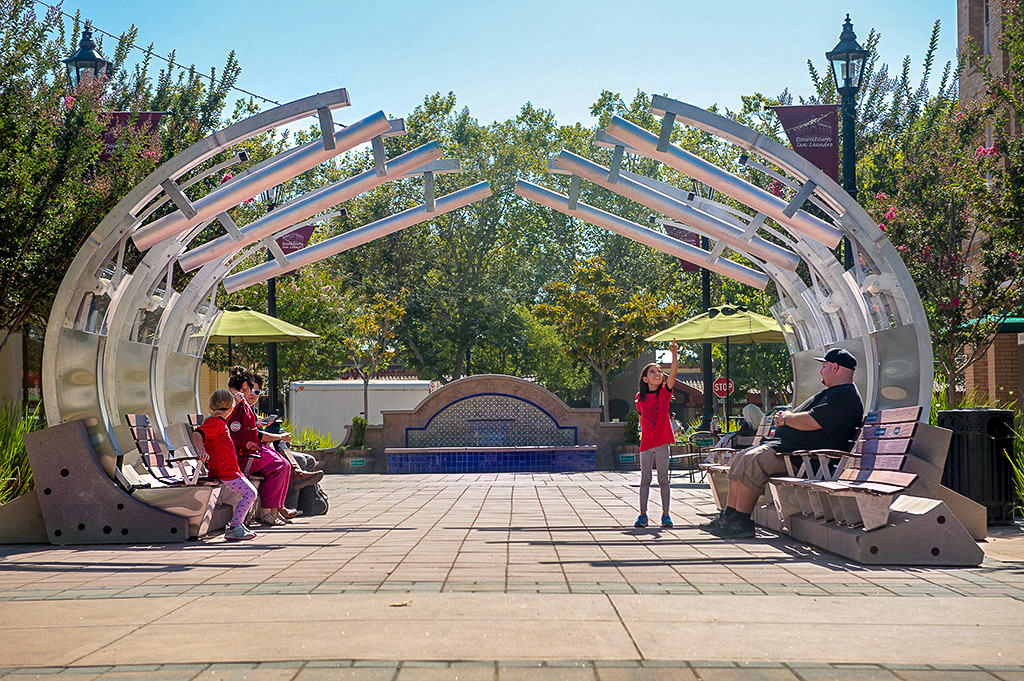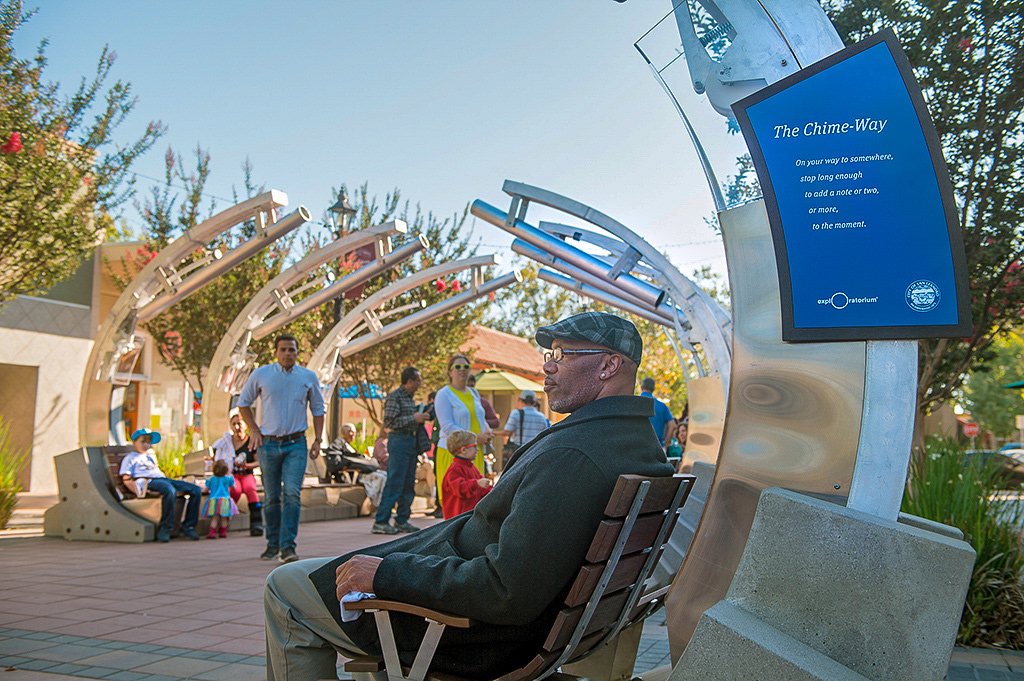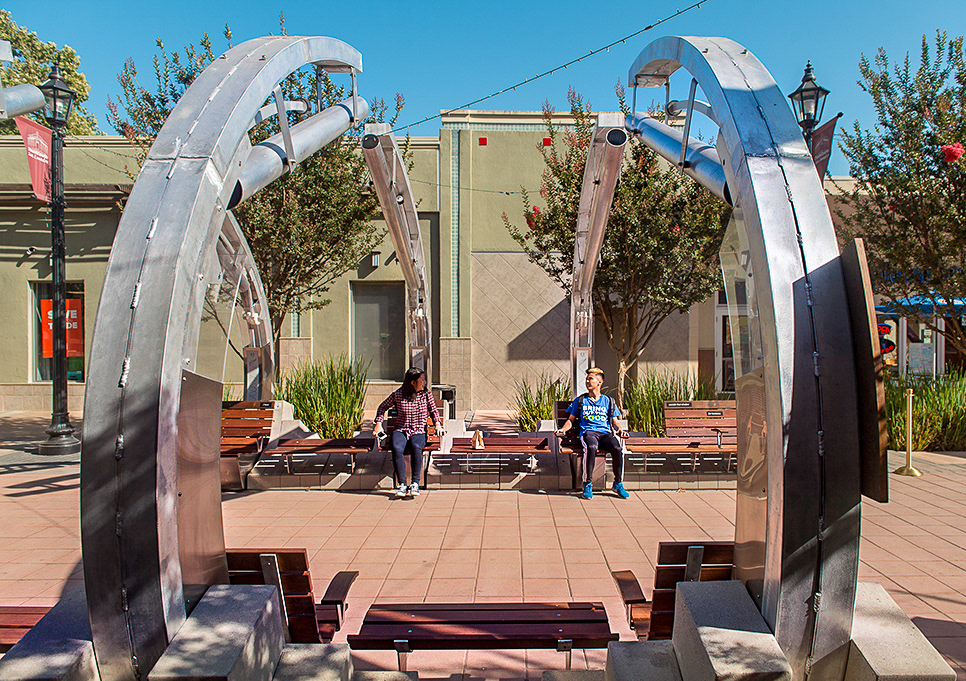 Green Streets, a local non-profit dedicated to employing ex-cons and disenfranchised community members, invited us to help them activate their local park, which has been beset by drug and gang activity for a generation.  The Trust for Public Land provided a grant to implement this activation.
Our team was committed to engaging the community in a participatory design process that would truly give community leaders and participants a sense of ownership over the outcome.  To do this, I modified a traditional design process to include an inspiration image exercise (upper right image); 2D drawing and collages; 3D model making; and, a one-to-one onsite prototyping event (lower left image).  Community members were central to the outcome of these iterations.  Also, given the quick timeline, tight budget and sensitive political environment, I devised a strategy of armatures, or "skeletal blank slates", that could be fabricated by our team while the community moved the design process forward.  These armatures were then populated based on the community's design.
This project had a profound impact both on our team and our institution, the Exploratorium.  Over a year and a half after opening day, the community was still using this activation to rally their neighbors around a common cause (lower right image).